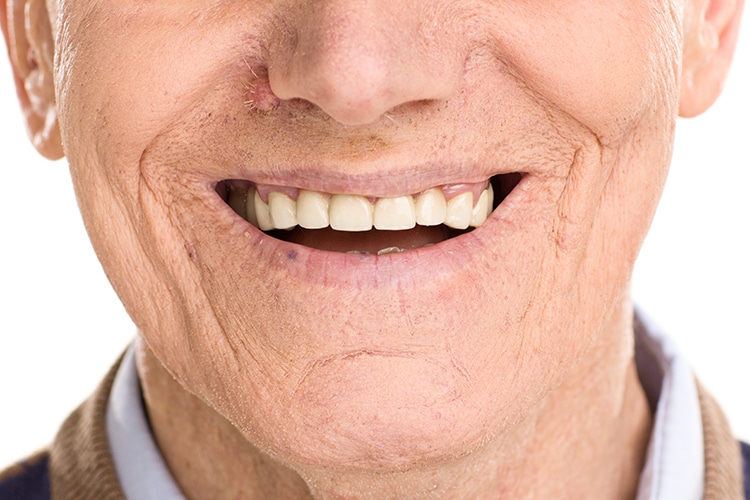 Complete and partial dentures might be an excellent tooth replacement for you if you are missing all or most of your teeth. Dentures are removable, yet look and function like natural teeth. Partial dentures are helpful if you have some natural teeth remaining in good condition. You may need complete dentures if you have lost all of your teeth or you have only a few lefts and they are decayed or damaged.
What Are Partial Dentures?
If you have lost a few, but not all of your teeth, a partial denture might be the best answer for you. This type of denture includes a base that attaches to your gums and fills the gap with ceramic teeth. This device is custom-fit for your mouth, so it sits snugly without slipping. It will connect to the surrounding teeth with metal clasps to keep it in place.
What Are Complete Dentures?
If you have lost all of your teeth, or just have a couple left, you may benefit from a full set of dentures. If you do have teeth remaining, but they are damaged or decaying, we will need to extract them before we can fit you for complete dentures. If this is the right option for you, your choices are either immediate or conventional.
Immediate dentures are made as soon as we extract your remaining teeth. These dentures are a good option if you would prefer to leave the office that same day with a set of dentures. The downfall of this type of denture is that the healing process after the extraction will cause your bone and gums to shrink. This shrinkage means that the of dentures may need to be adjusted or remade throughout your mouth's healing process to make sure they fit correctly.
Conventional dentures are created after your teeth and mouth have completely healed from the tooth extractions. This entire procedure may take up to three months before you have a complete set of dentures in your mouth. The benefit of this type of denture is that you will not need to go back to have them resized or remade over time.
If you are missing teeth and want a removable replacement option, dentures may be the right choice for you. At our office, Dr. Brandau and our team will discuss your condition and decide upon the best options for your needs. If you want more information about dentures or our other restorative treatments, call our office today.