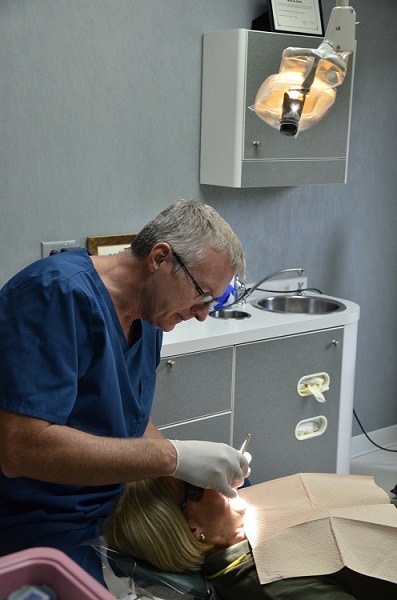 Tooth extractions are dental procedures often bear feelings of fear and uncertainty. Most people do not want to consider having a tooth pulled, but sometimes it is necessary.
Do I Need a Tooth Extraction?
Your natural teeth are meant to last a lifetime, but there are circumstances under which you may need to have one or more of your teeth extracted. These reasons may include severe trauma or decay, a crowded mouth, or tooth infection. Under these conditions, your tooth may need to be pulled to preserve the health of your mouth and the surrounding teeth.
What is the Procedure for a Tooth Extraction?
Many are afraid that a tooth extraction will be painful, but Dr. Brandau will make sure that he thoroughly numbs the area with a local anesthetic before beginning. If he needs to pull several teeth, Dr. Brandau will discuss with you whether or not you would like to be put to sleep with general anesthesia for the procedure.
Following the extraction, a blood clot will form at the extraction site. This clot will serve as a protective layer for the surgical site. Dr. Brandau will encourage you to avoid things that create suction in your mouth, mainly smoking or drinking through a straw. Additionally, he recommends you abstain from any alcohol for at least 24 hours.
What is the Tooth Extraction Recovery Process?
If you have a tooth extracted, please continue following a regular at-home oral care routine. You should brush and floss around the surgical site, being careful not to aggravate the stitches or blood clot. The next day, you can begin gently swishing with a saltwater a few times a day to keep the area clean.
Dr. Brandau may prescribe painkillers and antibiotics to control your pain and prevent infection. It is typical to encounter some minor distress after an extraction. If severe pain or bleeding continues for more than a couple of hours after surgery, contact our office.
For further inquiries concerning a tooth extraction, contact our office. We can discuss the best strategy for hazardous teeth and help you reach optimum oral health.